Stephanie Coontz teaches history and family studies at The Evergreen State College in Olympia, WA. She also serves as Director of Public Education at the Council on Contemporary Families, a non-profit, nonpartisan association of family researchers and practitioners based at the University of Texas at Austin. The author of 7 books on families, marriage, and gender relationships, she has published dozens of articles in the NYT and elsewhere, as well as in scholarly journals such as Journal of Marriage and Family. She is the recipient of CCF's first and only "Visionary Leadership Award," The Families & Work Institute's "Work-Life Legacy" Award, and other awards from the American Academy of Pediatrics, the Illinois Council on the Family, and the Association of Family and Conciliation Courts.
Newly revised edition! The Way We Never Were
Kellyanne and George Conway: A modern marriage in the age of Trump? Or a couple in crisis? (NBC News)

Should we be worried about Kellyanne and George Conway? As a historian of marriage, I've been getting a lot of questions about the relationship between President Donald Trump's senior counselor and her husband.
'Day Care For All': How America View Universal Pre-K (WBUR)

Some cities and states have tried implementing universal pre-K. But the idea's struggled to find a nationwide platform. Could that be changing?
Don't Fear the Sex Recession (Daily JSTOR)

Should we really keep obsessing over how much sex we are or aren't having? In her December 2018 cover story for The Atlantic warning that Americans—Millennials in particular—are having "so little sex," senior editor Kate Julian soberly framed the drop as a "sex recession."
Getting Angry at the Right Targets in the Right Way (The American Prospect)

Women's rage is all the rage nowadays. Rebecca Traister's Good and Mad came out a month after Soraya Chemaly's Rage Becomes Her: The Power of Women's Anger. And the last two years have seen scores of articles with titles like "Does This Year Make Me Look Angry?", "Women! Reclaim Your Rage," and "Don't Call Me 'Dear,' F**kface!"
Is The Gender Gap in Politics Changing? (The Society Pages)

In an opinion piece I recently wrote for CNN on the midterm election results, I argued that although the gender gap in support for Democrats remains huge, what should really worry the GOP is that the gap is narrowing. I add new evidence about the midterm results in this blog.
Stephanie Coontz Warns Of Getting Caught In The Nostalgia Trap (Boise State Public Radio Interview)

Looking at the past through rose-colored glasses is nothing new – we've been doing it in various forms for centuries. But when it comes to family life, that yearning for a simpler, happier time can be particularly potent.
Young People's Role In The Declining Divorce Rate In The U.S. (Wisconsin Public Radio)

The U.S. divorce rate has dropped and a new analysis shows that young people may have a hand in it.
America's Declining Birthrate (KUER's RadioWest)

America's birthrate is tanking. People who study fertility and families say there are lots of reasons for that: college debt, political uncertainty, climate change, rising home prices, delayed marriage.
The Nostalgia Trap (Harvard Business Review)

Few people today call a doctor when they feel a bout of nostalgia coming on. But for 200 years, nostalgia was considered a dangerous disease that could trigger delusions, despair, and even death.
For a Better Marriage, Act Like a Single Person (The New York Times)

Especially around Valentine's Day, it's easy to find advice about sustaining a successful marriage, with suggestions for "date nights" and romantic dinners for two.
How unmarried Americans are changing everything (CNN.com)

It wasn't long ago that being single after a certain age was considered a recipe for lifelong misery.
Nixon was right about women (CNN.com)

In 1973, when President Richard Nixon proclaimed August 26 Women's Equality Day — commemorating the day in 1920 that women won the right to vote — a woman could still be denied housing by a real estate broker or credit by a bank, simply because of her gender.
Ivanka Trump is right (CNN.com)

In a letter to The Wall Street Journal this week, Ivanka Trump gave a robust defense of the Trump administration's proposed paid family leave program. The Journal's editorial board had denounced it as a government "entitlement" that "could create another disincentive for work and advancement."
Do Millennial Men Want Stay-at-Home Wives? (The New York Times)

Millennials, generally defined as people born between 1982 and 2000, were supposed to be the generation that forged what has been called "a new national consensus" in favor of gender equality. Indeed, in February the prominent Columbia professor Jeffrey Sachs labeled the 2016 election, where an extremely qualified female candidate lost to a man with a history of disrespecting women, "a blip" on the road to the egalitarian society that will be achieved once millennial voters outnumber their conservative elders.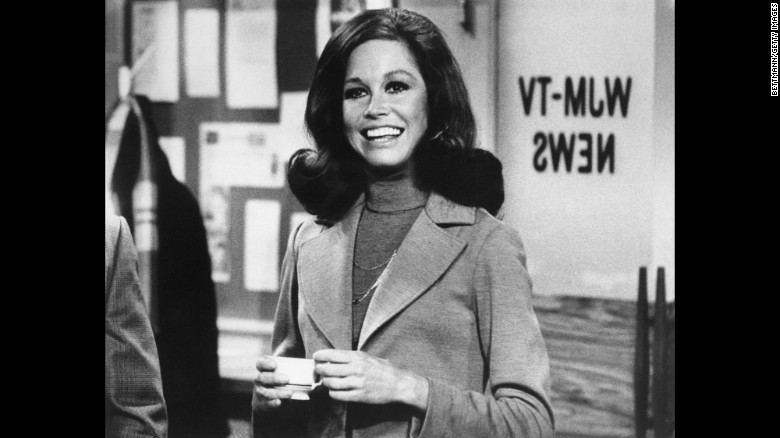 How 'The Mary Tyler Moore Show' made a difference (CNN>com)

I first discovered "The Mary Tyler Moore Show" when I was 25, and I immediately fell in love with it. But a few years ago, when I showed some episodes to a family studies class I was teaching, my students were far less impressed than I had expected them to be.
Strengthening the Case for Policies to Support Caregiving (SIGNS magazine)

Women have made impressive gains in the past forty-five years. But progress toward family-friendly social policies has been exceptionally slow.
Why the white working class ditched Clinton (CNN.com)

Since the presidential election, pundits have struggled to explain Donald Trump's upset win.
The shell-shocked white working class (CNN.com)

The problems bothering white Americans without a college degree have less to do with immediate economic insecurity or material hardship, although those are widespread, than with the collapse of a whole way of life.
Generation X and millennials may have found a new secret to sexual happiness (The Washington Post)

Older generations always seem to fret about the sexual behavior and romantic lives of the younger crowd.
Taking the Nostalgia of Trump Supporters Seriously

Nostalgia often arises out of a real experience of loss. It needs to be addressed and redirected, not ridiculed or denounced. And that applies to the nostalgia that motivates a considerable number of Trump supporters.
The awkward truth of 'make America great again' (CNN.com)

For all the hand-wringing about how we've never seen a presidential primary season like this before, in fact, it bears a remarkable resemblance to that of 1992.
Article Published in the Washington Post
Over the ages, some societies have accorded far less value and respect to singles than to married individuals. In Colonial America, unmarried men and women were never considered full adults, no matter how old they were.
Seattle Times article by Danny Westneat
When Reagan-appointed Justice Anthony Kennedy wrote his gay- marriage opinion, it turns out he was channeling an Evergreen State College professor.
Stephanie Coontz - PopTech Talk
What makes an ideal marriage? Stephanie Coontz, a professor of history and family studies and author of "Marriage, A History: How Love Conquered Marriage," says that marrying for love is a radical idea.
Stephanie Coontz - Colbert Report Appearance
Stephanie Coontz discusses her 2012 book, A Strange Stirring: The Feminine Mystique and American Women at the Dawn of the 1960s
Common Misconceptions on Sexual Assault
Sexual assaults on and off-campus are technically on the decline nationwide, but a new report shows that's not the complete story.
Think "traditional marriage" means a male breadwinner and one wife? Think again.
Scholar and author Stephanie Coontz takes us on a whirlwind historical tour that will change everything you thought you knew about the institution of marriage.
New twist on divorce rates; the couples most at risk of splitting up
Stephanie Coontz, marriage expert, author and professor at Evergreen State College, shared new twists in divorce rates, including the couples most at risk for splitting, even after decades of marriage.
How marriage came to be about love rather than strategy
It was simpler once, according to US author and academic Stephanie Coontz. Men and women married for strategic reasons; to consolidate and enhance their lot...
Adam Ruins Everything: Matrimony myths with Stephanie Coontz podcast
You've seen it from rom-coms to Hallmark cards - our society is obsessed with everyone finding their soulmate. But did you know the idea of 'the one' is a relatively new concept in our culture?
Adam Ruins Weddings
Stephanie Coontz appears on Adam Ruins Everything, where Adam reveals how most wedding traditions were recently created by consumerism, and divorce is actually a wonderful thing.
When child care costs more than college
Last year child care cost more than the average in-state college tuition in 31 states, according to a report by ChildCareAware.org. Stephanie Coontz from the Council on Contemporary Families discusses.
How to lift women from poverty
An estimated 42M women in the country are living in poverty, and the average woman is paid 77 cents for every dollar the average man earns. Stephanie Coontz of Evergreen State College discusses a new Shriver Report looking at women and poverty.
How poverty affects us equally
In the fight against poverty, supporting women in need can, in fact, help men as well. Stephanie Coontz joins to discuss how we must embrace this idea.
The role women play in the war on poverty
2014 marks 50 years since President Lyndon B. Johnson declared war on poverty in his State of the Union address. This week, a groundbreaking investigation takes a look at poverty from a number of fronts, including economic inequality and how it correlates to the wage difference between men and women.
50 years after Equal Pay Act, why are women still making less?
The Cycle hosts talks to Stephanie Coontz about how far women have come in terms of equal pay in the work place and why the income gap still exists in such a large capacity.
The masculine mystique
Author Stephanie Coontz joins The Cycle to talk about the male mystique and what it means to be a man in today's world. March 6, 2013
How far have we really come since the Mad Men days? The Cycle | Aired on February 19, 2013
Coontz discusses The Feminine Mystique with Gail Collins and other panelists on NYT Room for Debate, Feb 14, 2013
How did The Feminine Influence You Personally and Professionally, published on Jan 22, 2013

Recent Articles by Stephanie Coontz
Articles by Other Authors
Recently Released: A Strange Stirring: The Feminine Mystique and American Women at the Dawn of the 1960s
Based on extensive research on postwar gender roles and nearly 200 interviews with women and men who read Betty Friedan's The Feminine Mystique in 1963 and 1964, A Strange Stirring introduces us to the dilemmas and discontents of the wives and daughters of "The Greatest Generation" – the real life counterparts of the characters on tv's hit show, "Mad Men." Please visit the Strange Stirring page to see the latest reviews and articles about this new book. Learn More about "A Strange Stirring"
Other Books by Stephanie Coontz!
Marriage, A History, selected as one of the best books of 2005 by The Washington Post . Please visit the Marriage, A History page on this website for more information about this title, including availability.
The Way We Never Were

The Way We Really Are
The Social Origins of Private Life

Coontz recently published an expanded version of American Families: A Multicultural Reader, edited with two of her former students .

For a list of recent speaking engagements, refer to Coontz's Curriculum Vita (pdf) .
Follow me on Facebook and Twitter